Thursday night crash north of Crocker kills driver, ties up traffic four hours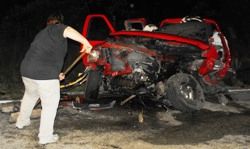 Note The Person Who caused this accident was insured by FARMERS INSURANCE.....NO UNDERWRITING, NO STANDARDS AND ANYTHING GOES. This company is culpable because they do nothing to educate and prevent these types of accidents.
The Agent's E and O is exposed because they do NOT ask questions but they ask if you have a pitt bull, pool or trampoline. More people are killed by Loose Runaway Trailers than are killed by pools, pitt bulls and trampolines.
Click Here For A Copy Of The Police Report
By: Darrell Todd Maurina
Posted: Friday, July 1, 2011 8:45 am
Thursday night crash north of Crocker kills driver, ties up traffic four hours
Crocker firefighters work to clean up a fatal wreck north of town on Highway 17.
CROCKER, Mo. (July 1, 2011) — Investigators from the Missouri State Highway Patrol's major crash team continue to investigate what caused a fatal wreck Thursday night on Highway 17 north of Crocker in which the towed unit of a dump truck smashed into a pickup, killing the driver and seriously injuring his passenger.
Stephen L. Hutinett, 52, of Greenwood, was pronounced dead at the scene of the crash about two miles north of Crocker by county coroner Mikel Hartness. His body had to be extricated from the wreckage, which blocked Highway 17 about four hours pending the investigation by the state patrol's major crash team, whose members took extensive measurements on the crash scene.
While the investigation is ongoing, troopers reported that Hutinett had been driving southbound in a 2000 Ford F-150 pickup at 10:08 p.m. when his vehicle struck the towed unit of a northbound 1990 Mack dump truck driven by Kenneth E. Helton, 41, of Crocker. Hutinett, who was pronounced dead at 11:08 p.m., had been wearing his seat belt, as was his passenger, Sharon J. Hutinett, 48, also of Greenwood, who was transported by Pulaski County Ambulance District personnel to Lake Regional Hospital in Osage Beach.
Helton's dump truck was not damaged and Helton, who had not been wearing his seat belt, was not hurt. The dump truck was removed by Jack's Towing; Hutinett's pickup was totaled and removed by Gary's Towing.
Pulaski County Ambulance District personnel remained on the crash scene until the crash was cleared about 2 a.m. and transported Hutinett's body to Long-Kloeppel Funeral Home in Crocker.
The force of the impact smashed the towed unit, owned by Sloan Excavating, into the pickup truck. A backhoe from Sloan Excavating was used to pull the two vehicles apart, a process which began about 1 a.m.
The major crash team arrived shortly after midnight; Crocker firefighters sent three fire trucks and 15 firefighters to the scene to control traffic and assist with the extrication, which finished about 1:40 a.m.
Crocker police also assisted at the crash scene; Tri-County firefighters from Richland and Iberia firefighters were placed on standby to handle any additional incidents which might have happened while Crocker personnel were busy at the Highway 17 wreck.
Related articles
Widow from last week's fatal Crocker crash files civil wrongful death lawsuit
Posted: Wednesday, July 6, 2011 3:30 pm
THIS ARTICLE: Thursday night crash north of Crocker kills driver, ties up traffic four hours
Posted: Friday, July 1, 2011 8:45 am
Click here to follow the Pulaski County Daily News on Twitter
Click here to follow the Pulaski County Daily News on Facebook
Click here for comments and local opinion
Widow from last week's fatal Crocker crash files civil wrongful death lawsuit
By: Darrell Todd Maurina
Posted: Wednesday, July 6, 2011 3:30 pm

CROCKER, Mo. (July 6, 2011) — A late-night fatality crash Thursday north of Crocker led to a wrongful death civil lawsuit against Douglas Sloan of Sloan Excavating and Kenneth E. Helton, 41, both Crocker residents.

Helton was driving a 1990 Mack dump truck pulling a Sloan Excavating trailer about 10 p.m. Thursday on Highway 17 north of Crocker when, according state patrol reports, the trailer became detached from the dump truck and hit a 2000 Ford F-150 pickup driven by Stephen L. Hutinett, 52, who was killed in the crash. His wife, Sharon J. Hutinett, 48, was seriously injured.

The Hutinett family, which includes two children aged 11 and 13, live in the Kansas City suburb of Greenwood; an older daughter lives in a different Kansas City suburb. While none are now local residents, Sharon Hutinett is the daughter of Twyla Cordry, a Waynesville city council member and owner of Citizens Mortgage.

The funeral service for Hutinett is tomorrow with visitation and memorial services tonight. Obituary information is included at the end of this article.

Sharon Hutinett has hired the Smith and Turley law firm to represent her case; in court documents filed Tuesday, her lawyers say that "combined and concurrent negligence of the defendants" caused her husband to be "instantly killed in the collision" caused by the trailer having "completely detached from the hitch on the dump truck and from any other connection to the dump truck."

The lawsuit says both Helton and Sloan Excavating were "engaged in a joint venture to their mutual profit in the towing of the trailer by the dump truck" and both negligent.

According to the lawsuit, Helton was negligent because there were no safety chains attaching the trailer to the dump truck, no airbrakes on the rear wheels of the trailer, and no working lights on the rear of the trailer because the plugs on the trailer and dump truck were incompatible. The lawsuit says "the locking lever on the dump truck's hitch was not fully set leaving a gap and loosening in the hitch which allowed the trailer disengage" but "if safety chains had been properly attached, the detachment of the trailer from the dump truck's trailer hitch would not have caused the trailer's detachment from the dump truck and the chains would have kept the trailer traveling in a straight line behind the dump truck." Also, according to the lawsuit, "if airbrakes had been present, the trailer would have stopped quickly upon any detachment from the dump truck."

The lawsuit also claims that "Helton did not inspect the trailer and make certain that it was properly and safely connected to the dump truck" and as a result "the trailer was unsafe and presented a continuing danger to the other vehicles on the road."

Sloan Excavating's negligence, according to the lawsuit, included not inspecting the trailer and "allowing the unsafe trailer to be towed on a public highway by Helton" without "hooks on the safety chains on the trailer" and both lighting problems and inoperative airbrakes. Those issues created a "danger, especially after sunset, to the traveling public by the unsafe trailer being towed on a public highway."

The lawsuit doesn't ask for a specific dollar amount of damages but rather includes standard legal language saying that Sharon Hutinett was deprived of both personal and financial support through the death of her husband, and said that if her husband had not died, he would have been eligible to file his own lawsuit against Helton and Sloan due to the crash.

Civil lawsuits for wrongful death are separate from any criminal charges. Staff in the Pulaski County prosecutor's office confirmed that as of Wednesday morning, state troopers have not yet requested any criminal charges in the case. Troopers earlier said investigation by the major crash team was still underway.

_____

The funeral service for Hutinett is tomorrow with visitation and memorial services tonight.

According to obituary information provided by Missouri Funeral Care of Raytown, visitation will be from 5 to 7 p.m. at Holy Spirit Catholic Church, located at 1800 SW State Route 150 in Lees Summit. Following the visitation there will be a Mic-O-Say Memorial Service 7p.m. to 7:30 p.m. and The Elks Lodge at 7:30 p.m.

Steve had a lifelong involvement with Scouting, according to the funeral home, including serving as Assistant Scout Master of Troop No. 54, and a member of The Tribe of Mic-O-Say, "Keeper of the Sacred Bundle Many Osage Drums." He was an Eagle Scout and the former Exalted Ruler of The Elks Lodge #2088.

A rosary will be recited at 9:30 a.m. on Thursday with Mass to follow at 10 a.m. at Holy Spirit Catholic Church and burial following in Mt. Olivet Cemetery in Raytown.

In lieu of flowers memorial contributions may be made to Boy Scouts, Heart of America Council, Campership Fund.

Hutinett was born on March 11, 1959 in Kansas City; he graduated in 1977 from Raytown South High School and attended Longview Community College. He was a member of Holy Spirit Catholic Church, and a drummer for the Dan Riggs Big Band. According to the funeral home, he will be remembered for his love and passion for his family, his love of music, trains and railroad history, the outdoors, his country and the Kansas City Chiefs.

Hutinett was preceded in death by his father, Francis Hutinett.

Survivors include his wife, Sharon, of the home; his mother, Peggy Hutinett, of Raytown; three daughters, Jessica Hutinett- Metz of Lee's Summit and Catherine Hutinett and Emily Hutinett, of the home; a brother, Paul and his wife Lori Hutinett of Blue Springs; a sister, Jennifer and her husband Allen Underwood of Raytown; a dog, Princess; and many nieces and nephews.
Arrangements are under the direction of Missouri Funeral Care, located at 6113 Blue Ridge Blvd. in Raytown.

Related articles

THIS ARTICLE: Widow from last week's fatal Crocker crash files civil wrongful death lawsuit
Posted: Wednesday, July 6, 2011 3:30 pm
Thursday night crash north of Crocker kills driver, ties up traffic four hours
Posted: Friday, July 1, 2011 8:45 am

Click here to follow the Pulaski County Daily News on Twitter
Click here to follow the Pulaski County Daily News on Facebook

Click here for comments and local opinion