Trailer comes loose, kills hot dog vendor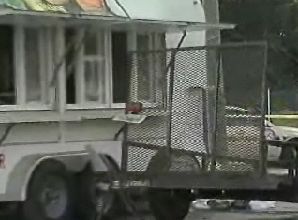 A hot dog vendor has died after she was struck by a trailer on Hillsborough Avenue.

TAMPA - A woman
hot dog vendor
was killed and a man seriously injured when they were struck by a runaway trailer on Hillsborough and
Taliaferro
avenues on Monday afternoon, Tampa police said
The accident happened about 4:15 p.m. when Dennis Tintle, 16, was driving a pickup truck west on Hillsborough, towing a riding lawnmower on a trailer. The trailer came loose from the truck and went barreling toward a former gas station at the corner of Hillsborough and Taliaferro.
In the parking lot at the intersection the operators of the hot dog vending business - 40-year-old Catalina Delcarmen Allmon of San Benito, Texas, and 42-year-old Vicente Quintero of Plant City - were setting up their small stand when the errant trailer slammed into them.
Allmon was pronounced dead at the scene. Quintero was taken to Tampa General Hospital with what were described as non-life threatening injuries, police said.
Police said the two had just recently decided to open their business at that intersection and were setting it up when the accident happened.
The accident snarled traffic along that stretch of Hillsborough for more than two hours.
Tintle was cited for failing to secure his trailer. Tampa police detectives also are investigating the accident.
Comments:
Posted by ( ndk ) on 08/24/2009 at 05:08 pm.
What? no chains on trailer?

Posted by ( denmar ) on 08/24/2009 at 05:33 pm.
Girl was just trying to make a living. I hope she didn't suffer. Scary, we were walking right by that intersection 2 days ago. You just never know.
Posted by ( rob1crazydude ) on 08/24/2009 at 05:50 pm.
i just had a problem with my trailer breaking loose but the chains held just long enough to keep it behind me while i got stopped,,i doubled the size of them to make sure next time , you think they are going to hold but it streteched that chain like it was nothing,, too many people take it for granted,if they are old replace them thanks lord it wasnt me,, condolensces to the ladies family

Posted by ( rob1crazydude ) on 08/24/2009 at 06:40 pm.
as i said earlier my trailer jumped off at the railrod tracks on hillsborogh,, i wasnt speeding the road just is rough if he was heading west the nebraska ave could be uneven and caused the trailer to life, if he was turning it could have puilled loose from the hitch,,, CHAINS saved me,,,but a 16 year old,,, who knows what he was doing..
Posted by ( danport301 ) on 08/24/2009 at 07:32 pm.
This kid (16 years old) has to be charged with something, involuntary manslaughter. That trailer should have been chained as well as hitched properly. Police have to charge him with this. All trailers come with chains unless it's a homemade type. If it was homemade, it should have had chains attached as a secondary protection measure in case the object came loose or unhitched. I can't imagine a 16 old driving a truck with a trailer and no adult riding alongside. It makes no sense. Citations, violations or a suspension. And yes, if it's insured, those two will be compensated regardless of where they were standing or what they were doing. Well, the one that is in the hospital will be eligible for insurance compensation if he lives, of $10,000 minimum, or caused death of 70,000 dollars. The women is dead, her family will collect." Jail time anyone"

Posted by ( tedh1112 ) on 08/24/2009 at 07:34 pm.
I bet this trailer's brakelights and turn signals didn't work either.This is an unfortunately bad case of wrong place at the wrong time.

Posted by ( reptaddict ) on 08/24/2009 at 08:10 pm.
I wonder if the 16-year-old attached the trailer to the truck. If so, expecting a child that age to properly attach the trailer and properly drive a vehicle pulling that trailer is asking an awful lot. I don't see any criminal charges here, but the family of the deceased will be collecting a hefty paycheck from somebody. My sympathies to the deceased and to the teen who has an awful lot of guilt with which to deal.

Posted by ( scootertoo ) on 08/24/2009 at 08:36 pm.
There is also a danger thinking that if the trailer coupler fits over the ball on the hitch everything must be O.K. However, most couplers today are for a 2" ball such as at all rental centers, but you often find 1 7/8" balls on the tow vehicle. You are talking only a 1/8" difference but a little wear and a rough road, crossing or even a turn can cause the towed vehicle/trailer to come loose. ALWAYS check your load, and again at the end of the day.

Posted by ( bharre ) on 08/24/2009 at 09:59 pm.
I'M SORRY FOR ALL THE FAMILIES. I'M REQUESTING ALL LAWENFORCEMENT, WHEN WAS THE LAST TIME YOU CHECKED THE CHAINS ON ANY TRAILER THIS SUMMER? PLEASE LET THIS HORRIBLE ACCIDENT TEACH US ALL A VALUABLE LESSON IN SAFETY. STOP TRAILERS THAT DO NOT HAVE PROPER TAIL AND BRAKE LIGHTS, TAG AND TAG LIGHT AND INSTALLED SAFETY CHAINS. THE LIFE YOU SAVE MAY BE YOUR OWN.ALL TRAILER OWNERS, WE ALL HAVE A RESPONSIBILITY TO THE PUBLIC FOR TRAILER SAFETY.THANKS,

Posted by ( wynotgold ) on 08/25/2009 at 12:03 am.
The kids in Florida are lucky. Live where I live at and try to get a drivers license at 16. They'll laugh in your face and tell you try again when your 18. It's illegal to operate a vehicle under the age of 18. Unless you happen to fall under the grandfather clause.