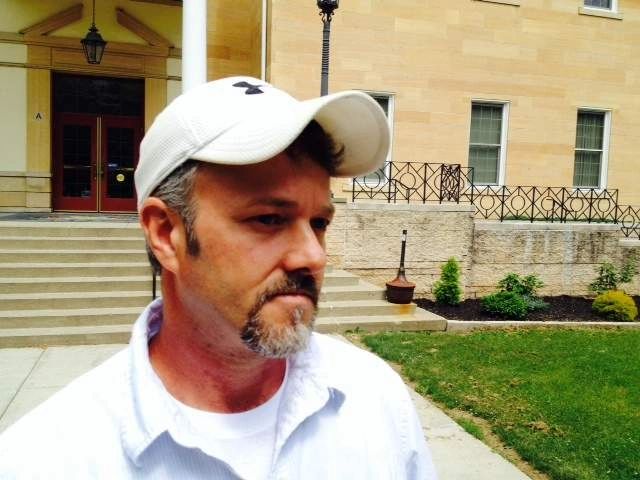 This Careless Man Who Stole A HOMEMADE TRAILER destroyed this MOM!
Whit This Crappy Homemade Trailer That is NEVER INSPECTED and has no NATIONAL SAFETY STANDARDS.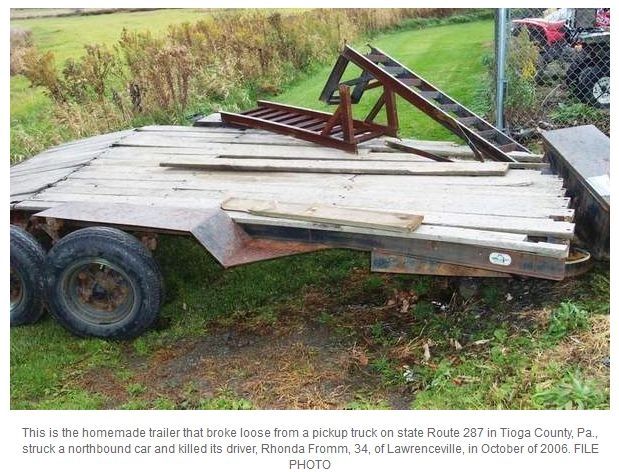 WELLSBORO — A Westfield, Pa., man was ordered to stand trial Friday in connection with a 2006 accident in which a homemade trailer broke free from a vehicle and struck an oncoming car, killing a Lawrence Township woman and injuring her husband.
The ruling came during a 75-minute preliminary hearing for Simon E. Gigee, 43, of Ladd Road, before Wellsboro Magisterial District Judge Robert Repard.
He faces two counts of leaving the scene of the Middlebury Township accident, one a felony due to the death of Rhonda Fromm, 34, and the other a misdemeanor tied to injuries to her husband, Mike Fromm.
Gigee, speaking to reporters outside the Tioga County Courthouse following the hearing, maintained his innocence.
"I didn't do it. They got the wrong guy," said Gigee, who is free on bail and had a dozen family members in court Friday to support him.
State police at Mansfield said the 1997 Dodge Intrepid that Fromm was driving north on Route 287, three miles south of Tioga, the late morning of Oct. 27, 2006, flipped after it was hit by a trailer that came off Gigee's southbound 1994 Dodge pickup. Police said the truck never stopped.
Gigee was arrested March 3, more than 7½ years after the accident, after several people told investigators they heard Gigee talk of the accident and his former landlord said a similar trailer was on her property before the accident, but disappeared afterward.
Gigee's teenage daughter, Jewel Gigee, 16, of Hickory, N.C., was among five prosecution witnesses who testified Friday, recalling what happened the day she said she sat as an 8-year-old in the front seat of a pickup driven by her father.
"I remember the shaking. I turned around. It (the trailer) had come off," she said, testifying she was one of five people in the pickup. She said another passenger, Jason Meise, told her to turn around while her father told her to be quiet.
David Stewart of Lawrenceville, Rhonda Fromm's stepfather, spoke on behalf of her family after the hearing.
"The family would like to say thank you to all the witnesses that showed up and took the time to come in and relate their statements. We appreciate their efforts," Stewart said.
Page 2 of 3)
"It has been a long difficult situation and we hope there can be some closure to this at the finish," he said of the family, which includes Rhonda Fromm's three children.
Gigee faces up to seven years in prison and a $15,000 fine on the felony charge and up to five years in prison and a $10,000 fine on the misdemeanor charge.
Repard scheduled a formal arraignment on the charges for June 30, but Gigee's attorney, Michael Rudinski of Williamsport, waived Gigee's right to appear, meaning a plea of not guilty will be entered for him.
Rudinski peppered several prosecution witnesses with questions Friday about the dates they heard Gigee allegedly make statements they considered incriminating, or why they waited years to tell police information they thought was crucial to the case.
"I think there are a lot of inconsistencies already. We don't have all the police reports yet. I think there is a big mix-up here, really," Rudinski said after the hearing. "It's always important to see when people gave their statements, why and when they found out this information."
Friday's hearing had been rescheduled twice.
Trooper Roger Williams testified about details of the accident, explaining he became involved in the investigation in March 2007, about five months after it happened. He said he interviewed several people in the case, of whom all but one testified Friday. He also said the trailer involved had been reported stolen March 8, 2006, from Stages Used Equipment in Tioga, nearly three weeks before the accident.
"Mr. Gigee denied any involvement in this. I personally interviewed him when he was charged," Williams said in response to Gigee's lawyer.
Jewel Gigee testified next. She now lives in North Carolina and within the past year, she said she Trooper Williams called her and told her to write down a statement of what she recalled from that day and give it to a North Carolina police officer who would come to her home.
Under cross-examination, she said, "I know who was driving. I know the trailer was on there, then it wasn't there no more."
Page 3 of 3)

She didn't say anything about seeing the trailer break loose or witnessing the accident, but after she said she turned around to look due to the truck shaking, she said she was told to "be quiet" and "not to say anything about the trailer coming off."
Reading from part of that statement Friday, she said her father told her: "If something happened, (he) would be in trouble and (he) would have to go away for a while."
Another witness, Lorenna Pierce of Westfield, testified about a statement she said she overheard Gigee make in 2009 in Sabinsville, Pa., in the kitchen of a home where her mother, sister and toddler daughter were present. She said her mother and Gigee were dating at the time.
"I haven't done rock since I killed that lady," she testified Gigee said, adding she never heard him make any statements about an accident prior to that time.
She said she gave that information to police in 2012.
The final witness, Lee Pierce of Westfield, who said Gigee is "supposedly" his father, said around the time of the accident he was dating Rhonda Fromm's daughter, Karissa.
He said he and Gigee were alone in a garage about five years ago when he asked him if he knew anything about the accident that had killed his girlfriend Karissa's mother.
Reading Friday from a statement he had previously given police, Pierce said he told Gigee, "I heard from somebody it was him that wrecked Karissa's mother."
He said Gigee replied: "Accidents happen. I don't want to talk about it."