A mom's struggle for a better life ends abruptly in Tampa at hot dog stand
By
Alexandra Zayas
, Times Staff Writer
In Print: Wednesday, August 26, 2009
Carolina Allmon and her daughters took a chance on Tampa.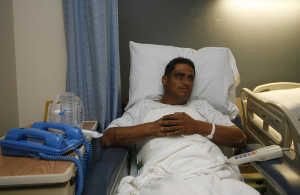 ATOYIA DEANS | Times]
Recovering in Tampa General Hospital from broken ribs and back injuries, Vicente Hernande Quintero was found by police outside a hot dog stand he and Carolina Allmon ran on Hillsborough Avenue after a trailer broke free from a truck and struck them.
TAMPA — Carolina Allmon worked in a school cafeteria in Texas, but fantasized about running her own restaurant.
She was 42, supporting two daughters, struggling to pay the bills.
Two weeks ago, she took a chance. She moved with her girls from Texas to Tampa and partnered with her friend's husband, Vicente Hernande Quintero, to open a roadside hot dog stand. They settled in a gas station parking lot on busy Hillsborough Avenue. On Monday at 11 a.m., they opened for business.
As Quintero recovered at Tampa General Hospital from broken ribs and back injuries, he recalled what happened on that first day.
Allmon was securing a sign just before 4 p.m. when Quintero heard her scream.
Moments later, police found him under the metal tongue of a runaway trailer. Police say the trailer detached from a pickup truck and careened toward their stand, striking them.
Quintero later learned that Allmon had tried to flee, but was hit by a riding lawn mower as it tumbled off the trailer. She lay next to him, dead.
The 16-year-old pickup truck driver, Dennis Tintle, was cited for failing to secure his trailer.
Allmon's two daughters sat in the hospital room with Quintero, wondering what comes next for them. Monica Allmon is 20 years old. Stephanie is 16.
"I wasn't ready for her to go," Monica Allmon said.
She didn't want to leave Texas, but she didn't want to see her mother chase her dream alone. Carolina Allmon had done that once before, leaving her native El Salvador at age 15 with hopes that the dollars she sent back could bring the rest of her family to the United States.
Allmon no longer wanted to work for survival. She told her daughters she wanted a "new life" for herself, and for them. She wanted Monica to go back to college. She hoped to make enough money so that Stephanie could follow. Stephanie wants to be a pediatrician.
But the first few days in Florida were frustrating. A Lakeland location didn't allow a sign. Other places turned them down.
"We'll make it," Allmon repeated to her oldest daughter. "We'll make it."
On Tuesday, the daughters planned to visit their mother's hot dog stand.
Then, they will catch a plane to Texas to live with the relatives she had worked so hard to bring to the United States, in a house she had almost finished paying off.
Alexandra Zayas can be reached at azayas@sptimes.com or (813) 226-3354.